How To Survive "The Pit" at K-pop Concerts
It is concert season for K-pop fans. Did you score a general admission ?pit? ticket to see your favorites perform live, in-person?
BTS World Tour: Love Yourself in Los Angeles at the Staples Center.
(Image Courtesy of Amy VanderZanden).
No doubt, preparing for the K-pop ?pit? can be overwhelming. We made a short checklist to reference before heading off to your event!
Survival Gear: What to Bring
Before anything, look at the venue?s bag policies. In general, venues will not allow bags of a certain size or with a certain number of pockets. Your best bets are drawstring bags or small cross-body bags.
Do not bring backpacks, like the ones you use at school. These will not be allowed inside. When in doubt: the smaller the bag, the better!
Inside your bag, include these essentials:
Ticket: Can you imagine leaving your ticket behind, only to realize seconds before lining up?
Phone: You cannot bring professional cameras inside concert halls. Many fansites dedicated to idols will ?sneak? in cameras, however these fansites are oftentimes caught and escorted out by security. To be safe, follow venue policies and use your phone to take pictures or videos.
External Charger: From taking pictures to communicating with friends on social media, your phone battery is going to be drained.
Earplugs: In order to prevent hearing damage due to music or the piercing screams of fans, you may want to bring earplugs. Earplugs will still allow you to hear the entirety of the concert.
Light Stick: If you have a light stick, bring it along in order to ?fully? experience concert culture.
Water & Snacks: Typically, venues will not allow outside food or beverages inside concert halls. However, we recommend bringing water and snacks with disposable packaging while waiting in line.
Spare Cash: In some instances, venues will not take cards. If you want to buy concessions or merchandise, bring some spare cash.
The Outfit: Style or Comfort
Based on personal experience, comfort always outweighs style. Pick something you feel good in, but when faced with the age-old question: ?platforms for height advantage or sneakers for good support?? ? we always recommend the latter.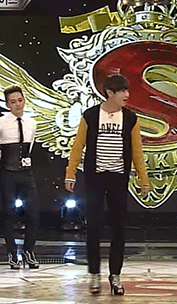 Kim Taehyung or ?V? of BTS demonstrating how to jump in high heels. This may not be ideal for a K-pop concert.
Lining Up: How Important is Barricade?
How early should you arrive to line up? If earning a spot extremely close to the stage or the ?barricade? is important to you, then as early as possible.
During the BTS World Tour: Love Yourself, some dedicated fans camped out a week before the show. That said, be aware venues may have restrictions regarding how early fans are permitted to line up on their properties.
BTS World Tour: Love Yourself in Los Angeles at the Staples Center.
(Image Courtesy of Amy VanderZanden).
It is also important to make friends with the people around you in the general admission line, in advent of bathroom emergencies or food breaks: when your location in line could be sacrificed, left unattended.
If you are at all like me, this process may sound stressful. Keep in mind some fans still prefer the less-competitive ?back? of the pit, where there is also more space to move around.
References:
Fans of K-pop group BTS camp out ahead of NYC show. (2018). Retrieved from http://www.fox5ny.com/news/k-pop-bts-fans-camp-out