Kakao Talk: The Must-have app for Koreans
If you follow K-pop stars or watch any Korean tv, you might have seen this yellow text boxes, with the notification sound that goes "ka-to!"
They are from the Korean messenger app called "Kakao Talk", which is used by almost all Koreans as a communication tool on the phones and other devices. It is an app that allows users to send text messages, make calls and post to their stories like an Instagram. It is kind of necessary for Koreans to have Kakao Talk app because it is now used as the main platform for the announcements at work, meetings, group projects, K-pop fan chats, promotion and many more planning tools.
How did it get nationwide popular in Korea?
1. Free calls & messages
Kakao Talk service started as free calls & messages app just like ?Whatapp". At first, there were a lot of conflicts with the call service providers in Korea because of the idea of "free service". However, more Korean people started using Kakao Talk service as it was useful, convenient and free as long as they had internet service. Because a lot of people started using them as a communication tool, people who did not have Kakao Talk started getting the app in order to keep in touch with everyone else.
2. Connected with a lot of other services
Now that Kakao Talk is widely used in Korea, they are launching and connecting with more services such as banking, taxi, music apps, and many more. This makes it a whole lot easier for users to complete their tasks and explore other options all within Kakao app.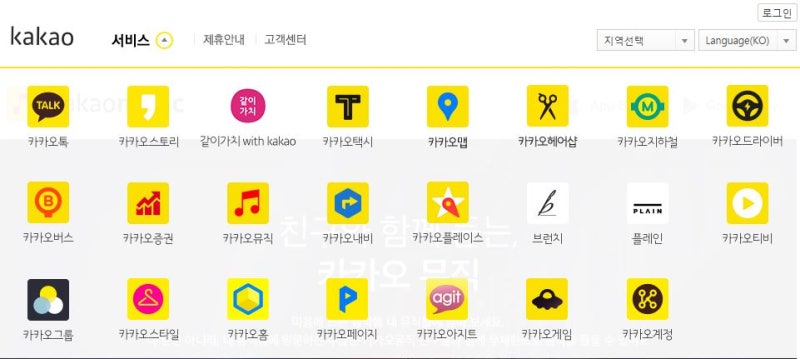 ?
3. Most importantly, they are SO CUTE!
It might sound absolutely absurd, but one of the biggest reason why a lot of people use Kakao Talk service more than other platforms is because of their emoticons. Kakao Talk app has their own emoticons called "Kakao Talk Friends", and they are the cutest emoticons with the most realistic personalities that represent various emotions. Watch this promotion video for KCON in LA, featuring Kakao Friends emoticons!
?
Because of these useful emoticons, it?s more fun to communicate through Kakao app than via normal text messages. Their emoticons are so popular that Kakao Talk now has several offline pop-up stores and cafes that sell stationary stuff with the emoticons on. It is almost impossible to not buy anything from this store!
Kakao talk messenger is definitely a great combination of convenience and enjoyable experience that Koreans adore. A lot of foreigners also started using Kakao app (for example, my friends who saw my Kakao Talk Friends dolls) but it seems that the company wants to focus on providing services within Korea before it expands more worldwide. It surely is a great tool that brings Korean communities closer.
References
Korea Bizwire (October 17th, 2015). Mobile Chat App Kakao Decides to Comply with Monitoring Warrants. Retrieved from http://koreabizwire.com/mobile-chat-app-kakao-decides-to-comply-with-monitoring-warrants/43245
????. (April 3th, 2017). ??? ???? ???? Retrieved from https://m.blog.naver.com/PostView.nhn?blogId=hero290&logNo=220970838717&proxyReferer=https%3A%2F%2Fwww.google.com%2F
Lalien Guillen (January 5th, 2017). Kakao Friends store, cafe great for tourists Retrieved from http://koreanetblog.blogspot.com/2017/01/kakao-friends-store-cafe-great-for.html
Kakao Friends. (August 3rd, 2018). [official] KAKAO FRIENDS in Los Angeles, KCON18 LA Retrieved from https://www.youtube.com/embed/2LGa_nO7BuE
Koreli Arkadas. (August 10th, 2017). Kakao Friends Store Tour?? | Trendy shopping place in Seoul Retrieved from https://www.youtube.com/watch?v=ZqANoN-PF14